2019 Hemp Festivals & Events
in Western Colorado

Hemp History Week, 10th Annual June 3-9 "Together with grassroots organizers, farmers, producers, and advocates from all walks of life we will change Federal policy on hemp in the U.S." -Hemp History Week's mission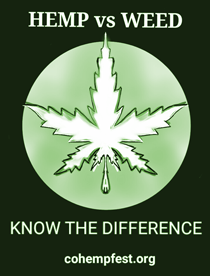 Hemp on the Slope,
July 20

, 10a-4p, Salt Creek Farm, Collbran, CO
Hemp is Here July: CBD and the FDA,
July 25

, 5p-7:30p, SpringHill Suites, Grand Junction CO
Hemp and Hops,
August 3

, 10a-8p, Doubletree Hotel, Grand Junction, CO

Contact us to list your event.
Learn about and celebrate hemp and freedom for CO farmers!
Colorado Hemp Fest exists to serve family farms, small businesses, and our local communities.

Without agriculture, there is no culture.
Colorado Hemp Fest - Connect With Us on